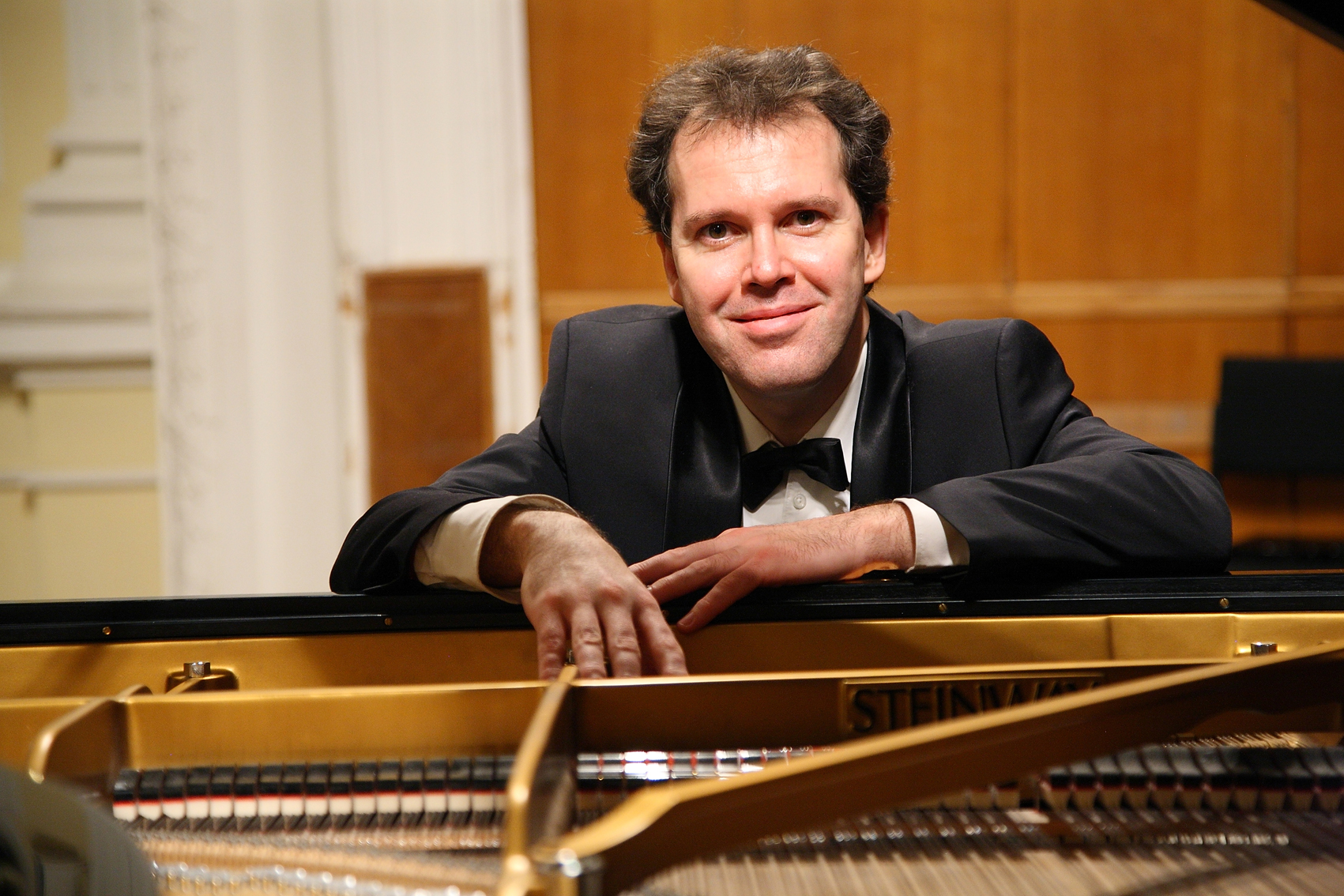 Konsert og mesterklasser med Yuri Bogdanov
Den russiske pianisten Yuri Bogdanov kommer til Barratt Due helgen 9. - 11. november og det er duket for mesterklasser og konsert.
Kammersalen, Barratt Due musikkinstitutt
Mesterklasser: Fredag, lørdag og søndag
Kammersalen, Barratt Due musikkinstitutt
Fri entré og åpent for alle!
Program konsert 10. november: 
Johann Sebastian Bach (1685-1750)
Partita e-moll, BWV 830
Franz Liszt (1811-1886)
Mefisto-vals nr.1, S. 514
Pause
Pyotr Ilyich Tsjajkovskij (1840-1893)
Fra Årstidene, op. 37a
Oktober «Autumn song»
November «Troika»
Alexander Scriabin (1871-1915)
Deux Poèmes, op. 32
Preludium og nokturne for venstre hånd, op. 9
Etyde op. 8, nr.12 ​
Les om Yuri Bogdanov (kun på engelsk): 
Yuri Bogdanov is one of the most gifted pianists of our time. He received wide international recognition, primarily as a performer of music of Johann Sebastian Bach, Franz Schubert and Alexander Scriabin. In 1996, His recording of sonatas and pieces of F.Schubert was recognized by the Viennese F.Schubert institute like the best Schubert's records in the world, season 1995/1996.
Yuri was born on February, 2nd, 1972. He started to play piano at 4 years old with outstanding teacher Anna Artobolevskaya. Simultaneously he began to study music composition under direction of T.Rodionova.
In 1990 he finished Central Music School, in 1995 – the Moscow State Conservatory P.Tchaikovsky (with distinction) and post-graduate work of  the Moscow State conservatory P.Tchaikovsky in 1997. His teachers in Central Music School were A.Artobolevskaya, A.Mndoyants, A.Nasedkin; in Conservatory – prof. T.Nikolaeva; in post-graduate – prof. A.Nasedkin and prof. M.Voskresensky. Yury Bogdanov was awarded several prizes and ranks of the winner at the international competitions: I.S.Bach in Leipzig 1992 (III Prize), F.Schubert in Dortmund 1993 (II Prize), F.Mendelssohn in Hamburg 1994 (III Prize), F.Schubert in Vienna 1995 (Grand Prix), E. Honens in Calgary (IV Prize), S.Seiler in Kitzingen, 2001 (IV Prize). Y.Bogdanov is the winner of the festival «April spring» in Pyongyang in 2004 and the owner of a special prize at the international competition of pianists in Sydney in 1996. In 1992 the pianist was awarded the 1-st grant A.Scriabin. In Scriabin house-museum in Moscow Yuri Bogdanov in 1989 played his first solo recital. Since then the pianist made concert activity, played more than in 60 cities of Russia and abroad. He had been on concert tours in Austria, France, Germany, Greece, Italy, Netherlands, Norway, North Korea, Spain, Switzerland, USA and many other countries.
Since 1997 Yuri Bogdanov is the soloist of the Moscow State Academic Philharmonic society. He had played in the best concert halls of Moscow, including Big hall of the Moscow conservatory P.I.Tchaikovsky as the soloist played with symphonic orchestras of State television and radio of Russia, Cinematography, the Moscow philharmonic society, Deutsche Kammerakademie, Calgary Philharmonic, The state symphonic orchestra and others.
The repertoire of the pianist includes solo, chamber m and concerts for piano with orchestra. He had recorded 9 CDs.
Yuri Bogdanov is a professor of Gnessin Russian music academy. His students won a lot of prizes of many international piano competitions. Yuri Bogdanov participated like the member of jury of many international competitions of pianists. The Ministry of Culture of the Russian Federation often invited Yuri Bogdanov to teach at different  summer art-schools in various regions of Russia and abroad. He has gratitudes from chapters of administrations and heads of culture departments of Subjects of Federation, and also gratitudes of Minister of culture of the Russian Federation. Yuri Bogdanov is one of founders and vice-president of A.Artobolevskaya music foundation, and International charitable Y.Rozum foundation. In December, 2005 the presidium of the Russian academy of natural sciences selected Yuri Bogdanov as a member-correspondent of Academy on section «The humanities and creativity». The pianist awarded a silver medal «Offer to art» by the international charitable fund «Patrons of art of century». Also he awarded a medal «Honor and advantage» by society «Kind people of the world». In March 2006 the pianist got the honorary title «The honored artist of Russia». Yuri Bogdanov is the art-director of the project «Where the art take birth». In 2007 the name of the musician was published in the 10-th edition of the bibliographic directory «Who is who» (the Russian edition). In the same year the biggest Russian record company «RMG» produced his solo disk in мр3 a format. In the autumn 2008 «Steinway & Sons» company chose Yuri Bogdanov as the artist of «Steinway».
In 2012, Yuri Bogdanov founded the Music and Environmental Festival «Prometheus» in Sochi, which entered the program of the Cultural Olympiad.  In 2013 he headed the international organization «Ecology of culture» and international piano festival «Evenings of Art around Moscow».